The Heart of God's Story by George Guthrie
This 6-session Bible study explores the beauty and power of God's unfolding story in Scripture, weaving the teaching around three key, interlocking themes: face, space, and grace. Face focuses on God's presence as the central theme of Scripture; Space points to God's creating a place for us to walk with Him and live for Him in the world; Grace refers to God's outward focus as He gives humanity a mission in the world.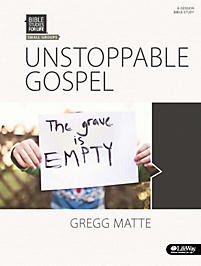 Unstoppable Gospel by Gregg Matte
This 6-session study journeys through the exciting early days of the church. As the Book of Acts opens, you'll see a room full of huddled, scared disciples, completely powerless and uncertain of the future. You'll also see these same followers become empowered men and women, advancing throughout the world, proclaiming the unstoppable gospel that turned the world upside down.
More Than Enough: A 6-week study on peace by Jeff Iorg
Connect the Dots: A 6-week study for young adults on God's will by Mike Hurt
Samson: A 6-week study on God-given purpose by Chip Henderson